Your home is the most important asset you have, so when you're ready to build or remodel, get yourself the best Sub Contractor in the business!!!

We've been in business for over 25 years, specializing in residential and commercial construction. All our experienced staff is experienced and ready to service your needs. We only use the best materials available.  Our workers are skilled and knowledgeable in their field trade. We service the entire southwest of New Mexico and west Texas.

We are fully licensed and bonded, and offer warranty work for one year on all services provided, assuming we are at fault.  Most importantly, we work hard to finish each job on time and with the best workmanship.

ONTIVEROS INSULATION CO., INC.

Insulation - Acoustical Ceiling - Drywall


485 Archuleta Rd.

Las Cruces, NM 88005

Ph # 575-525-3496

Fax # 575-527-8592

ontinsulate@gmail.com

NM Lic # 52556 & 55105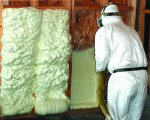 Polyurethane Foam

Residential & Commercial

1. Customers come first.

2. We do what we say we're going to do, within an agreed timeframe.

3. Your satisfaction is  guaranteed.

4. Locally owned and operated.